Matt works on new songs for next cd
Matt work on a new songs for the next cd . Now Matt plays with a new musicians : Luca Gendusa on drums and Andrea Castelli on bass . Guests : Emiliano Mammini on Acoustic Guitars and additional Electric Guitars .
Metal Shock Magazine "The Best of 2000"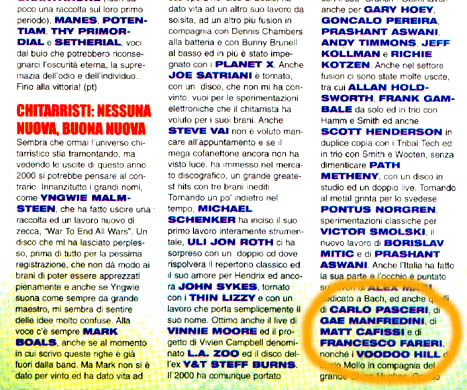 Add a new photo galleries
Matt's photos with great artists like Gilbert , Portnoy , Chambers , Hellborg , Bissonette etc ... Visit the new Photos Artists another gallery with Matt's friends at Photo Friends .
GuitarChef Site is back
New graphic , new interviews (Vai , Gilbert , Johnson etc...) and new emotions on the best Fanzine on Web dedicated at all guitarists around the world . Columnists : Ryan Maza , Emiliano Mammini , Toshi Iseda , Fabio Montorzi , Dave Martone and Francesco Fareri . Visit the new site at http://guitar_chef.tripod.com ! Also : check out the latest news from Warp 3 website about GuitarChef site .
Andrea Castelli Project
The debut solo-cd from one of the great italian bass player . Matt play the guitar on all songs . Featuring : Mark Ramsex (V) , Morby (V) , Jacopo Meille (V) , Pippo Cresti (V) , Manu Appelius (D) , Cesare Atticciati (K) , Francesco Oliveto (K) , Gianluca Galli (Add.G) and of course Andrea Castelli on fretless bass . Andrea works , in this time , at mixing with Gianluca Galli . Planet Time's Cd is available on Europe and Japan on March 2001 ! Click here for more news about Andrea Castelli .
Matt writes for Flash Magazine
Matt writes for the most Italian Metal Magazine called Flash . The column is called Guitar Planet and is dedicated at all underground guitarists around the Web .
New Look For Matt Site
New colours , more news , more photos , more music , more cool and much much more ... hair (!?) .
Extravaganza with honour
Extravaganza inside the Cds Councils of Lorenzo Di Antonio's web site ... A honour from me and a great thanx to Lorenzo !
Emiliano Mammini new cd demo
Emiliano Mammini works on his first Cd-Demo at his home studio . Matt plays some solos on this . This Cd will available on May 2001 .
Lorenzo Di Antonio new cd
Italian rock guitarist Lorenzo Di Antonio work oh his debut cd . A great player for a great rock music , Matt plays guest solo in one song .